Sports nutrition is a specially designed set of nutritional supplements that are actively used in the field of sports, fitness, and bodybuilding.
All sports nutrition carries with it a definite goal – to make an athlete stronger, stronger, help him achieve new sports records, increase immunity, help gain muscle mass, or burn fat, normalize metabolism, or reward a number of other beneficial effects.
Each sports supplement carries out one or several functions peculiar only to it. For example, levocarnitine stimulates fat metabolism, creatine is used to increase an athlete's endurance, etc. Although there are drugs that work in several directions at once.
What is sports nutrition & Why is it needed?
Sports nutrition is not an ordinary product of marketing, but products developed by scientists in the field of physiology and dietetics through research, carefully selected in composition, and are essentially concentrated food elements, especially processed, for the best digestibility of the human body.
At the same time, the assimilation of sports nutrition requires minimal body costs, and it is absorbed into the blood much faster than regular food, which contains in addition to the key element a lot of other components, which makes it almost impossible to control your body by taking the right proportions of food, without the participation of sports supplements.
Sports nutrition often has a high energy value, which gives the athlete additional energy for training, and improves his health.
Contrary to popular belief, sports nutrition is absolutely harmless and does not apply to dope. The only option when it can harm the body is personal intolerance as a result of metabolic disorders, or specific diseases, as well as a very large amount of consumption "at a time", which in general happens from ordinary foods if you eat more of what you need.
Sports nutrition belongs to the categories of "supplements" because it is not a complete substitute for the usual diet of an athlete, but only becomes its qualitative supplement. It has nothing to do with drugs and is not addictive. For the individual selection of sports supplements, it is advisable to contact specialists qualified in this field.
Sport it is selected for the personal needs of the athlete. To lose weight, various fat burners L-carnitine are used, which accelerate the breakdown of fats in the body. For gaining muscle mass, gainers, proteins, testosterone boosters, etc. are used. Some athletes use supplements for physiological needs.
The energy for the cells of our body is the hydrolysis of ATP, which is synthesized by cells from carbohydrates. Therefore, carbohydrates play an important role in human nutrition in terms of energy. Proteins are the building blocks for cells. Proteins are absorbed by cells after the release of the hormone insulin, which is produced by the pancreas immediately after carbohydrates enter the digestive tract. Therefore, the ratio of proteins and carbohydrates should not be greater than the ratio of 1: 4 protein to carbohydrates, then insulin will be enough for the absorption of protein.
For a normal person per day, the rate of protein is 0.7-1 g per kilogram of weight, while for athletes, this rate is 1.5-2.5 g of protein per kilogram of weight.
All foods have their own absorption rate, which is not affected by the caloric content of this product. Before training, they usually take in quickly digestible foods, to supply the body with the fastest nutrients. Slowly digestible foods are often taken at bedtime so that the energy contained in it is enough for the body throughout sleep.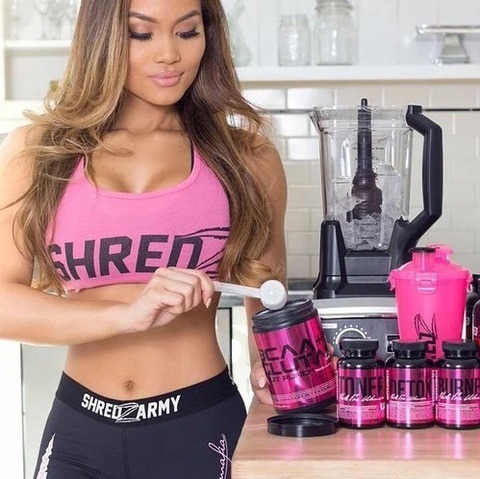 The highest rate of absorption belongs to carbohydrates, followed by proteins and fats. Protein preparations differ in the rate of absorption, depending on the type of protein in their composition. Protein from whey is quickly absorbed by the body, at a time when protein from casein is absorbed after a while.
Packages of sports nutrition usually write the number of substances in one dose of the additive, and the percentage ratio of the nutrients of this dose to the daily intake of this substance. Some vitamins and salts are added in extremely small doses, as they are not used by organisms in the training process, but take part in the processes of assimilation of other substances.
It is advisable to train on an empty stomach, before accepting "fast" amino acids and proteins for energy replenishment of the body. There are also special training complexes, which are taken before, on, and after training, and feed the body. They supply the body with the right amount of energy and protein needed for high-quality muscle work and their further recovery. Also after training, a number of other components are used, such as BCAA, L-glutamine, protein-carbohydrate cocktails and others that protect muscle tissue from destruction as a result of training stress.
Sports nutrition does not have a negative impact on the health and metabolism of an athlete. An overdose of vitamins, as a result of non-compliance with the instructions for use, may cause allergies. Caffeine and caffeine-containing supplements can cause insomnia when consumed in the evening hours. Take sports nutrition wisely, according to the instructions, and no problems will arise.