Hyperextensions – are exercises for the lower back that develop the back muscles, gluteus muscles and hip flexors.
Performing exercises does not overload the joints, maintains muscle tone, strengthens the tendon corset of the spine, so it is recommended for beginners and people with weak backs. Such training has a beneficial effect on the muscles of the lower back, and in the process of training, the risk of spinal injury and tendons is greatly reduced.
To get a good result, it is necessary to do hyperextension several times a week, but this exercise does not replace other complexes that are designed to train your back muscles. Before performing hyperextension with burdening, you need to consult a good doctor. In most cases, doing 3-4 sets of 10-14 repetitions.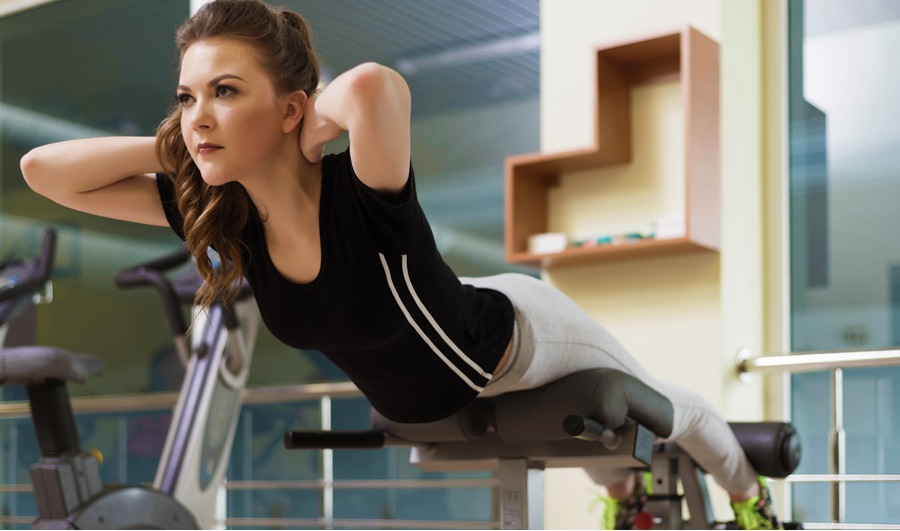 Technique perform hyperextension
You need to lie in the simulator on the stomach, and heels to bring under a specialized roller. Holding your back straight and not bending your legs, you should do a forward-downward bend, after moving smoothly to a position in which the body represents a straight line, you need to linger in this position for a few seconds.
    When performing this exercise, you should definitely avoid reverse overextension in the lower back. In order not to injure the spine, perform a hyperextension slowly, completely controlling movements. Lumbar muscles contract isometrically better than dynamically. To enhance the effect, hold the extra weight in a pancake in front of your chest with your hands.
Hyperextension falls into the category of isolating exercises since here only hip joints are set in motion. However, during this exercise, several muscle groups will be used at once, in particular, the posterior group of the thigh muscles, the gluteus and waist muscles. Compared with the Stanovoy, during which intervertebral discs are compressed, hyperextension is safer for the lower back but less effective in terms of strengthening muscles. If your lower back does not withstand heavy loads when performing deadlifts, we recommend that you first strengthen your muscles with hyperextension.